Evie McLaren

General
Full Name

Evie McLaren

Gender

Female

Species


Mermaid (formerly)
Human (currently)

Occupation

Student
Employee at the Ocean Cafe

School
Relationships
Parents

Sarah (mother; deceased)
Doug McLaren (father)

Romances

Zac (boyfriend)

Others

Carly (best friend)
Ondina (ally/friend)
Sirena (good friend)
Nixie (friend/former ally)
Lyla (frenemy)
Mimmi (ally/friend)

Appearance
Eye Color

Hazel

Hair Color

Brown

Powers

Standard mermaid powers

Production
Season(s)
First Seen
Portrayed By
Evie McLaren is a supporting/main character in Season 1 and Season 2.
Evie is a good looking, easy going, sporty girl with a strong work ethic and plenty of ambition to get ahead in life. She has always been a battler. Nothing has been delivered to her on a silver platter. Whatever she's achieved, she's done it herself.
Apart from working hard at school, she also works the small shop/dive business outlet at the Ocean Cafe. Evie stocks and sells sporty beachwear items, as well as booking the scuba diving tours and other aquatic activities that her father runs off the local beach.
A keen triathlete, she trains hard on the beach and in the water, which is how she and Zac originally met up and began dating. Both share a love of the beach and an active lifestyle, so it was inevitable that out of shared training sessions romance would blossom.
When Nixie, Sirena and Lyla appear on the scene, Evie notices the rather odd, unusual out-of-towners - but only begins the resent their presence when Zac spends increasing amount of time with them instead of her. Worried that her life is about to come crashing down, Evie cannot help but become suspicious, especially of Lyla. She and Zac used to have something really good going on. Now, with Lyla, she feels like the third wheel.
Evie is suspicious of Lyla and Zac's relationship, as it appears to be romantic. This causes tension between Evie and the girls, as she treats them badly because of this. As Zac and the mermaids grew closer, Evie and Zac's relationship grew strained. This changed after the falling of Lyla and Zac's friendship. By the end of series 1, Evie finally found out all about Zac and the mermaids and was able to embrace her boyfriend's differences. She apologized to Lyla and the others for judging them too quickly and she became a part of the group.
Season 2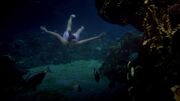 Evie was throwing a party for Zac to celebrate his one year anniversary of becoming a merman. After Zac is kidnapped by Ondina, and Mimmi, in an effort to remove his powers and his tail, she pops up into The Moon Pool during a Full Moon and becomes a mermaid.
On her birthday she received waterlily perfume made out of oil rather than water from Mimmi.
Gallery                                                 
The image gallery for Evie McLaren may be viewed here.                                                                                                                                                                                                                                   
Ad blocker interference detected!
Wikia is a free-to-use site that makes money from advertising. We have a modified experience for viewers using ad blockers

Wikia is not accessible if you've made further modifications. Remove the custom ad blocker rule(s) and the page will load as expected.