Mako Mermaids

Genre

Fantasy,Mystery

Created by

Jonathan M. Shiff

Written by

Sam Carroll,

Anthony Morris,


Chris Roache

Directed by

Evan Clarry,
Grant Brown

Country of origin

Australia

Language(s)

English

Running Time

26 minutes

Airdate

July 26, 2013 (first 13 episodes)
September 15, 2013 (second 13 episodes)

Mako Mermaids is an Australian television program for children, and is an continuation of H2O: Just Add Water. The serie was announced in July 2011, and is produced by Jonathan M. Shiff, in association with Nickelodeon. The show was originally titled Mako: Islands of Secrets, but was later changed to Mako Mermaids. Then the title changed again to Secret of Mako Island and back to "Mako Mermaids" again. Mako Mermaids will debut on Friday 26th of July, 2013 in the US, Canada, UK, Latin America and other provided countries on Netflix. 
The Australian television station TV Ten will also debut Mako Mermaids on July 26th, 2013.
Disney Channel (US), has picked up the series, with the pilot aired on January 18, 2016 at 5pm (Eastern), E#1-6 back-to-back, according to Disney Channel promotional ads, and a cute "Disney Mako" logo, that began playing over the last weekend in December 2015.  No further information or news postings have been located via search, Disney or Shiff websites as of the 30th of December
A boy is magically turned into a merman, and discovers his underwater origins, after he comes in contact with the magic water at the mysterious Mako Island, that is guarded by a trio of mermaids.
Listings (Disney Channel)                                        
- All times are Eastern time zone.
- Disney's Mako "pilot week" (18+ Jan.2016): Charter cable listings: S1E1-6(Mon. debut) then 1/day Tue-Fri@7:30pm, the previous day's@7:30pm replayed the next day at 7pm (starting Wed), then #1-2 replayed Sat@10+1030am, #3-4 replayed Sun@10:30+11am, #5-6 replayed Sun@10+10:30pm.
- Disney's 2nd Mako week (25+ Jan.2016): Charter cable listings: Episodes replay on Mon-Thurs@7:30pm, Tue-Fri@2:30pm, Sat@9:30+10am, Sun@2pm+2:30pm.  Fri@7:30pm is Disney's "New, HD" time.
- Disney's 3rd Mako week (01+ Feb.2016): Charter cable listings: Episodes alreay aired replay on M-F@2pm, Mon-Wed@7:30pm, Sat@09am+0930am+10am+10:30am, Fri@7:30pm+10:45pm is Disney's "New, HD" time.  Disney Channel listing errors on Charter Communications Digital Cable Listings for 04Feb2016: Use online listings.  Charter Communciations Digital Cable Listings are Wrong ... a Lot!!!
- Disney's 4th Mako week (08+ Feb.2016): Charter cable listings: Episodes alreay aired replay on Mon-Tue@2pm, Sat@09am+0930am+10am+10:30am, where Fri@7:30pm is Disney's "New, HD" time. 
- Disney Channel's 5th Mako week has cut back the daily time slots for Mako, 2pm only Mon-Tue, 7:30pm "new" on Fridays, 9-10am Saturday, and the next week is only Fri@7:30pm and Sat@11-1200... guess they didn't have enough veiwers from the first weeks. 
- After that it's just Fri@7:30pm only.  They sometimes put on Saturday episode showings, but later abandon that.
- Charter Communciations Digital Cable Listings are Wrong A Lot about listings, even episode info, Disney Channel and Mako Mermaids included.  Instead, use http://tvschedule.zap2it.com/tv/mako-mermaids/EP02104436?aid=tvschedule.
- As a non-Disney "Netflix production" it looks like there will not be a 'Disney On Demand' viewing option, which would likely be a competition to Netflix or Nickelodeon.
- It looks a lot like Disney might not even close out the entire Mako season before hitting the "delete" key... but great that they gave Mako a shot.  Hope it helps fund a follow-on series from Shiff, he's opened up the Mermaid genre like no-one ever has, and if he's here to stay, then the fans will be too, and Disney would be lucky to work with him!!!
Three mermaids: Sirena, Nixie, and Lyla, are assigned with the task of protecting their magical Mako Island from trespassers, but then, Zac Blakely, a normal landboy, falls accidentally into the moon pool during a full moon, and he becomes a merman. Sirena, Nixie and Lyla are cast out by their pod, and must solve the problem. Zac is an enemy to the Mako pod, so the Mako pod must flee. Sirena, Nixie and Lyla may not follow, so they decide to get legs, and going on land, to take away Zac's powers. But it's not that easy for them. Rita, an older and wise mermaid who left the pod many years ago because she wanted to start a life on land, helps them. She helps them to complete their mermaid school training.
Zac forms a strong, and special connection with the island, and gets a blue fish-like tail, and amazing marine powers. He also tells Cam, his best friend, that he has a tail and some powers, and Cam becomes jealous, but Zac doesn't know. The three undercover mermaids become friends with Zac, and see him with a tail. But they don't tell him that they also have a tail. Cam doesn't trust the undercover mermaids, and warns Zac, but Zac doesn't listen to Cam.
And during season one, Zac finds a trident, and he finds out at the same time that Sirena, Nixie and Lyla also have a tail. The three mermaids fight with Zac to get the trident, but they don't succeed. Zac is upset that Sirena, Nixie and Lyla kept their tails secret to him, and now believes that they want the power within the trident, so he sees them as his enemy. But Sirena, Nixie and Lyla just only wanted to protect Zac from the powers of the trident. He tells Cam what happened, and Cam tells Zac that he made the right choice to see the mermaids as his enemy.
Later in season one, Lyla gets hurt because Zac and Lyla fight over the trident. And from this moment, Zac decides to put it back to where he found it. Cam is upset with the choice of Zac, and decides to get the trident, in co-operation with Nixie. Evie want's to help Cam, and soon finds out that Zac is a merman, and that Sirena, Nixie and Lyla are mermaids. Cam has the trident, and tries to become a merman himself, and destroy the moon pool with it, but he fails, and Zac breaks their friendship.
Two new mermaids named Ondina and Mimmi arrive at Rita's grotto, together with Sirena, and both are afraid that Zac Blakely is a threat to mermaid pods everywhere, but what they don't realize is that there is another merman in town called Erik, and he wants power and might. Erik discovers that Ondina is a mermaid, and she thinks that Erik is a normal landboy, but he isn't, and he shows Ondina his tail too. Ondina tells everyone, and Erik becomes friends with Zac. Together, they discover another chamber on Mako. But when they try to activate it, a secret is revealed.
Veridia, the head of the council, tells everyone that Zac is the son of Nerissa, and that there will happen terribly things when the son of Nerissa controlls the chamber. But Nerissa is Mimmi's lost mother. Mimmi discovers that Zac is her brother, and Zac discovers that he has never been a normal landboy, but that he's born as a merman. He finds out that his parents adopted him, and it becomes too much for him.
He pushes away the people who care about him, and doesn't want to been involved with any of it. In his opinion, his whole life was a lie. He's shocked. But he manages to forget about who he really is, and gets back his connection to the people who care about him.
At the end of season two, Erik finds out what is needed to activate the chamber, the trident stone. He manages to get it, and activates the chamber. But it's a merman chamber. Merman made this chamber in a war between mermaids and merman, to kill all mermaids. Erik doesn't know this, and when Ondina, Mimmi and Sirena arrive to stop Erik, they fall unconscious on the ground. Ondina is not doing well, and Erik sees this. Ondina is the person that Erik loves, and doesn't want to hurt her, so he decides to shut the chamber down, but he fails. Zac also tries, and he succeeds. But with no mercy. Zac's life energy has been taken by the trident stone, and he's dying. But Mimmi puts the stone on Zac's chest, and saves him. Ondina breaks up with Erik, and Erik was never seen again.
Brooke Nicole Lee, Gemma Forsyth, Dominic Deutscher, Amy Ruffle, Chai Romruen, Kerith Atkinson and Rowan Hills are confirmed to be returning for season 2.
Lucy Fry and Ivy Latimer will not be returning for season 2.
Isabel "Issi" Durant has been confirmed to be joining the cast for it's second season as Ondina.
Canadian Actress, Allie Bertram has been confirmed to be joining the cast for it's second season as Mimmi.
Actor/Model Alex Cubis has been confirmed to be joining the cast as Erik.
Later on Twitter, a user tweeted that there will be a conection between the mermaids of H2O, and Mako Mermaids, so please bring back H2O mermaids and Jonathan retweeted "Yes. Good guess! :)"
Jonathan tweeted that they met on Monday on 6th January with the main cast.
Filming for Season 2 is planned to wrap up in July 2014, according to the article on Gold Coast Bulletin.com
Evie will become a mermaid this season according to Jonathan M. Shiff. He Twittered a photo where Sirena, Mimmi, Ondina and Evie are in Moon Pool.
It has been confirmed that Ondina and Erik will be a couple. Both Alex Cubis and Isabel Durant tweeted that it is their last day of filming with their "onscreen lover" and "mermate".
It is not known if Evie will get a moon ring, due to all the mermaids have a moon ring.
It has been said by Jonathan M. Shiff that the release date for the first half of Season 2 will be in January 2015.
Season Three.
Season 3 will air in 2016.
Weilan, a teenage Chinese mermaid, discovers a mysteriously relic underwater, and releases a terrifying water dragon. Weilan flees to Mako for her safety, but the dragon follows her. And on the next full moon, the dragon appears near Mako. They warn Veridia, and the pod hides in the underwater caves of Mako. Weilan tells everyone about the dragon, that is was created to take away mermaids their powers and tail for good, and destroy all pods. Now that Zac, Mimmi, Ondina, Rita and Veridia know about the dragons destiny, they must find a way to destroy it. Moon rings don't affect the dragon.
Zac manages to learn a trick from Weilan called Turning The Tide. It's an Chinese mermaid trick to defend themselves. It's some kind of shield, that will send back anything that attacks the user of the shield to the person that started the attack. Evie hears about Zac's plan, and follows him to the moon pool, where Zac will use the trick onto the dragon, but that was a mistake of Evie. She loses her tail and powers when she tells the dragon to leave them alone.
Meanwhile, Mimmi's moon ring goes glowing all the time, and every time when this happens, she sees a hologram/spirit of a mermaid. But who is this mermaid? Mimmi believes that it's Nerissa, and that Nerissa needs Zac and Mimmi's help. But she has nothing to prove this, until Chris, a landboy who Mimmi loves, breaks up with her because he knows that Mimmi is hiding something.
Mimmi swims to Mako, and Zac hears about what Chris did to Mimmi. Zac goes after Mimmi, and comforts her. And at that moment, Mimmi's ring goes glowing again. Zac can see what Mimmi sees because of their blood connection. The mermaid appears again, but then in the moon pool. She says to Mimmi and Zac: My children. Mimmi tries to touch the mermaid, but she disappears when this happens. Now, Mimmi knows for certain. Zac and Mimmi go Ondina, and they tell her what happened.
Veridia and the council announced their plan. On the next full moon, the council is going to release the full power of the island, to destroy the dragon.
Meanwhile, Weilan discovers that the dragon is actually a person that is under a spell. And that it can only been broken by using a special bracelet. She tells Zac and Mimmi. They must get the bracelet, and Zac and Mimmi go to Veridia, to tell her not to destroy the dragon because it could be their mother, but she ignores their request. The dragon must been destroyed according to Veridia,or the pod will never be safe.
But they also have trouble with getting the bracelet. The bracelet is in the possession of an famous, proffesional diver who dives to ancient artifacts. Her name is Rikki Chadwick, and she's also a mermaid. She also plays in H20: Just Add Water. Rikki has returned to her hometown, and she signs books with her signature.
Mimmi, Ondina and Weilan ask her to give them the bracelet, but they fail. They discover that Rikki is a mermaid, and use that to get the bracelet, but they fail again. Weilan and Ondina return, but discover that Rikki is already gone. They find her in the moon pool, and convince her to give them the bracelet. Mimmi puts the bracelet around her arm, and she breaks the spell with the bracelet the next full moon. Zac and Mimmi have their mother back, and she tells them what happened. Zac tells Cam, Carly and Evie what happened, and he tells them that he will tell his adopton parents about who he really is.
Production.
The series was at first titled Mako: Island of Secrets, but was then re-titled to Mako Mermaids and later to Secret of Mako Island. As of March 2013, the series is again titled Mako Mermaids per its first trailer.
Season 1 consisted of twenty-six episodes that are each twenty-six to thirty minutes. Filming began in April 2012, but was postponed to the beginning of May 2012. On 8 May 2012, Shiff Productions announced the principal cast and the start of the shoot. Filming ran through 12 October 2012. 
Main Characters.
Mimmi (Allie Bertram):Mimmi is a northern mermaid immigrated to the Gold Coast where she became part of the Mako Pod. She has knowledge of various potions and spells. In "Reunion", she and Zac find out that they are actually long-lost siblings.
Ondina (Isabel Durant): Ondina is a mermaid from the Mako Pod. She's a reckless girl who takes things into her own hands, but is learning to care for others with gentleness.
Zac Blakely (Chai Romruen):  Zac is 16 years old and is the main character of Mako Mermaids. He goes camping on Mako Island, than falls into the Moon Pool which causes him to receive long lost merman powers. Zac is sporty and grew up surfing. Zac's powers include the ability to move objects with the mind, and the ability to control water with the mind, as well as expanding it and molding it into a variety of shapes. Zac later finds out he was born a merman and his true connection to Mako.
Lyla (Lucy Fry): Lyla and her mermaid friends, Nixie and Sirena, watch everything Zac does on Mako Island. Lyla develops feelings for Zac, and will be the rebel mermaid. She is the fiery mermaid, and she's very determined and passionate. Season 1 Lyla has returned to the pod.
Nixie (Ivy Latimer): Nixie and her mermaid friends, Sirena and Lyla, watch everything Zac does on Mako Island. Nixie is very adventurous and loves playing around and sometimes gets in trouble because she can't stay still.  She and Cam have good chemistry together.  Season 1 Nixie has returned to the pod.
Sirena (Amy Ruffle): Sirena and her mermaid friends, Nixie and Lyla, watch everything Zac does on Mako Island. They are in the Moon Pool when he activates a hidden Island room that drops him into the Moon Pool during a full moon, which causes him to become a merman. Sirena provides the Moon Ring in which gets the girls legs. She is the mediator and peacekeeper between Lyla and Nixie. She's a beautiful soul and a bit naive, but that can work her to disadvantage. They attack him at school which causes him to become a merman which is observed by the principal, who is then aware of their existence since she is also a cast-out mermaid due to falling in love with a mortal man. In Season 2, Sirena has returned to her pod, but is forced to return to Mako Island when Mimmi and Ondina go against the council's will to try and remove Zac's powers.
Cam (Dominic Deutscher): Cam is Zac's best friend, and appears to be a lifeguard. He knows about Zac's secret, and knows that Nixie, Sirena, and Lyla are mermaids. He has always been Zac's equal, but things change when Zac becomes a merman. Towards the end of the season, after Zac locked the Trident away again, Cam convinced Nixie to help him reopen the Trident chamber and pull it out yet again. In episode 26, "Decision Time", it is revealed that Cam's real purpose and intent all along was to steal the Trident and gain a merman tail for himself so that he could rule over Mako Island. Although this secret plot changed the nature of Zac and Cam's relationship as best mates, in season 2, Zac and Cam begin to work things out. After becoming a couple with Carly, Cam comes to accept his role as a land dweller and chooses loyalty over power.
Other Characters.
Evie (Gemma Forsyth): Evie is Zac's girlfriend, and feels Zac is hiding something and so she tries to discover it.She initially breaks up with Zac because he won't reveal what is going on with him and because she thinks Zac is cheating on her with Lyla. Evie finds out Zac is a merman in Episode 25 "Betrayed". They have apparently been dating for 8 months, but have been close to each other since they were six years old. Evie evidently gains a mermaid tail in Season 2 because she comes to the moon pool during a full moon. Her courage and acceptance of her role as a mermaid leads to her initiation into the pod.
Rita Santos (Kerith Atkinson): Rita is the school principal, and also happens to be a mermaid. She has long given up life of the ocean, but when three young mermaids appear in her life, she begins to find companionship with them, albeit reluctantly.  She first witnesses the girls attacking Zac outside in public in a very abrupt way, right in the middle of school grounds, exposing them and their powers to her.  She is a full mermaid, previously cast out of her pod when she loved and was engaged to a mortal man, who died before they wed.  She sees the girls' ignorance and lack of mermaid education as wreckless and dangerous to themselves and all mermaids everywhere.  Girls need education to be able to navigate the world smartly and seek their goals without getting into trouble.
David (Rowan Hills): David is the boy-next-door - cute, honest, matter-of-fact, and always happy to help out. David works at his dad's cafe business. His family owns the Ocean Cafe and are well liked in the local community. There's instant puppy-love chemistry between David and Season 2 and also Sirena being one of them in the season finale.
Carly (Brooke Nicole Lee): Carly is an employee at the Ocean Cafe. She has feelings for David and she is Evie's best friend.
Neppy (Angourie Rice): she is also a mermaid and she wants to capture the merman zac and finds out there is two mermen.
Confirmed Powers.
Episodes.
Trivia.
This is the second series Lucy Fry has the main role in that is created by Jonathan M. Shiff. The first was Lightning Point (Alien Surf Girls in US).
Lucy Fry made a cameo in the last episode of Season 3 in H2O. Her name was announced at the graduation ceremony and she was seen in the audience.
In H2O: Just Add Water the mermaids each had lockets or crystals, but in Mako Mermaids the mermaids will have Moon Rings in a shape of a tail.
Mako Mermaids will make connections to H2O: Just Add Water. Things such as "the past mermaids" or "the mermaids before us" will probably be mentioned. There is a rumor that the show will tell how the moonpool was revived since its destruction in the finale of H2O. However, that is unlikely, as the moonpool is not the same as the one in H2O.
Season 2 has been confirmed for a 2014/2015 release.
Dom Deutscher (Cam) guest starred in the H2o episode 'The Siren Effect' as one of the boys that fell in love with Cleo because of her voice.
It was confirmed by Amy Ruffle via twitter that her character (Sirena) will have a sister, played by Jenna Rosenow.
It is still unknown how natural mermaids got into Mako Island
The Moon Pool in this series is completely different than the one in H2O.
If mermaids have been living on Mako Island for a long period of time, it is a possibility that this series takes place many years after H2O: Just Add Water.
There will be a hidden mermaid cave in Rita's house.
The show will make some connections to H2O, probably things such as the mermaids before them, but they will not mention names. There is a rumor that they might say how the Moon Pool was revived since it was destroyed in H2O.
In Australia, the series is known as Mako: Island of Secrets instead of Mako Mermaids.
In Episode 5, "Blizzard", it is revealed that the Nixie, Lyla, and Sirena are southern mermaids, meaning they frequent the South Pacific, so they have never had any experience with snow. When they do come into contact with snow, they develop Snow Rash, which is treated with dried seahorse powder.
Trailer.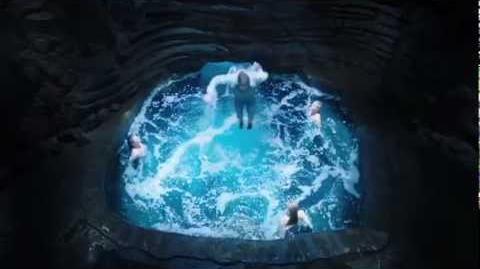 Ad blocker interference detected!
Wikia is a free-to-use site that makes money from advertising. We have a modified experience for viewers using ad blockers

Wikia is not accessible if you've made further modifications. Remove the custom ad blocker rule(s) and the page will load as expected.