Full Cast
Ivy Latimer as Nixie
Amy Ruffle as Sirena
Rowan Hills as David
John O'Brien as Rob Blakely
Laura Keneally as Mrs Blakely
Monte as Poseidon
Jenna Rosenow as Aquata
Angelee Snow as Maya
Joe Davidson as Surfer Boy
Matthew Garderner as Bass Player
Nicholas Hamilton as Ben
Mitch Kennedy as Science Teacher
Alex McTavish as Swimming Girl's Mother
Catherine Miller as Anna
Anna Mowry as Shoe Shop Manager
Piper Nairn as Girl at Traffic Lights
Millicent O'Hara as Swimming Girl
Deshay Padayache as Biology Teacher
Alastair Page as Drummer
Victor Parascos as Mick
Greg Richardson as Policeman
Jason Wilder as Service Man
Emma Wright as Hannah
Nick Wright as Joe
Alastair Wuth as Keyboard
Jake Connor Moss as Kid in Science Class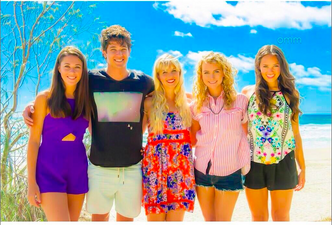 Season 2 
On twitter it was confirmed that Ivy Latimer and Lucy Fry will not be returning and will be replaced by two new mermaids. Below is the confirmed cast so far. 
Ad blocker interference detected!
Wikia is a free-to-use site that makes money from advertising. We have a modified experience for viewers using ad blockers

Wikia is not accessible if you've made further modifications. Remove the custom ad blocker rule(s) and the page will load as expected.